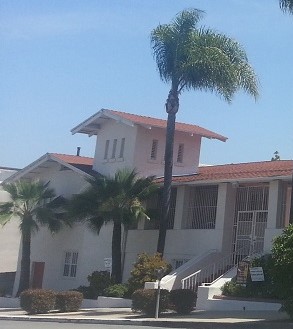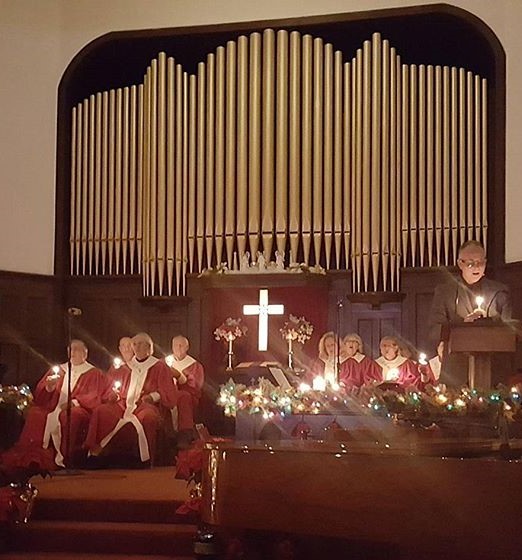 Our History
Central Congregational Church was established as a faith community in La Mesa in 1909. The church originally gathered in what was the La Mesa Opera House, now Por Favor Mexican Restaurant, on the corner of La Mesa Boulevard and Palm Street. Construction of the original chapel, our current location on the corner of 3rd St. and Lemon Ave., was completed in 1911, and included the upstairs chapel, and a large downstairs dining room and industrial kitchen. Being one of the largest rooms in town at that time, the dining room was used for banquets and wedding receptions, and, during the Great Depression, was used as one of the main soup kitchens in the area.
Our current, beautiful sanctuary, with its stained glass windows and historic pipe organ, was built in 1926 and included the addition of the Fellowship Hall, upstairs classrooms and the patio between the old chapel and the new sanctuary. The Pilcher pipe organ, donated by the well known Porter family, was originally installed in 1926 with 700 pipes at a cost of roughly $6,000.00. In 2012, the organ was completely removed for desperately needed refurbishing and was reinstalled in 2013 by L.W. Blackinton & Assoc. Organ Builders, with the addition of 300 pipes.
Several pastors have served the congregation over the years, and the congregation has been quite large at times, sometimes almost filling the 350 seat sanctuary. Also, CCC has a reputation for having great music, including a strong choir that continues to this day.
After all of these years, the CCC faith family and our facilities continue to be a center of ministry. In addition to our Sunday services and other church-related activities, CCC's facilities continue to be a blessing to the community as several community groups, including many AA and NA groups, use our campus throughout the week.
As a Congregational Church, CCC is in association with the National Association of Congregational Christian Churches (NACCC - naccc.org), and the Southern California Cal-West Association of Congregational Churches.
While we are thankful for our heritage, and the blessing of a beautiful, functional church campus, we are seeking God's good purposes for us today, and have our eye on his future for us in Christ Jesus, as we pray and work for his Glory and the Good of our Neighbors near and far.
(For more about our current pastor, Scott Archer, click here. For more about our ministry staff, click here. for more about Congregationalism, click here).